Crypto gaming has long been positioned as a new frontier to onboard the next wave of users through a practical use case and a fresh take on how games work. In Part 1 of this two-part series, I dive into how crypto is making inroads into this narrative, a state of play of gaming and why it matters.
Key Takeaways

This matters because gaming is shown to be a substantial use case for blockchain, NFTs and cryptocurrency.

Crypto Gaming refers to the intersection between blockchain-based games and crypto. It's a mix of DeFi principles, as in theory, users can trade, swap and lend out crypto-based gaming assets (NFTs).

A range of different models for crypto games exists—with free-to-own becoming a lucrative way for new crypto games to launch.

Value of crypto gaming = enabling real ownership.

Crypto gaming is a big deal due to the huge addressable market for gamers—3B people play games monthly, with global gaming revenue ~$180B—more than art, movies, music, etc.

The biggest funded gaming networks are Ethereum, Immutable X, Solana, BNB Chain and Polygon.

Most games live on BNB Chain and Ethereum.

Game3 awards look at the best crypto games and what's to come. My favourite remains Illuvium.

Unique active wallets (UWA) for crypto games are -40%. Although, there are more UWAs in the crypto ecosystem using games versus DeFi.

For crypto games to go mainstream, it's about abstracting away blockchain and making a game that is genuinely game to play (and not just played for speculation).
What Does This Cover?
Gaming is considered the next big thing to onboard the next billion users into the space.
I've received a lot of requests to cover this, as many members are asking
"How do I capitalise on this narrative".
Is it buying tokens, land, NFTs, gaming studios, or the blockchain tokens themselves?
For this post, I will separate crypto gaming away from "Metaverse", which is highly linked but a whole different beast on its own. I will provide a similar write-up on Metaverses in the coming weeks.
Part 1 sets the scene, giving an overview of the crypto gaming market.
Part 2, released on Monday, will look into how this impacts you and provide a more detailed way to potentially gain exposure to the crypto gaming market.
Crypto Gaming Explained
Crypto gaming refers to the intersection between blockchain-based games and crypto. It's often a mix of DeFi principles, as in theory, users can trade, swap and lend out crypto-based gaming assets, such as NFTs or in-game cryptocurrency.
It's about using blockchain that impacts the gaming experience, whether earning tokenised rewards (cryptocurrency or NFTs) or having some game logic baked into the blockchain.
Why It matters?
Crypto gaming is a substantial use case for blockchain, NFTs and cryptocurrency, which could explode in the coming years. As seen through this series, there is a genuine reason to use blockchain in gaming and provide actual demand for underlying blockchains.
It has a serious impact on you, as in the coming years, we could see significant development and opportunity arise from this narrative.
Definitions
The words "crypto gaming", "GameFi", "blockchain-based gaming", or "web3 games" can be used interchangeably.
Different models for Crypto Gaming
GameFi or web3 games have gone through different stages.
Play to earn (P2E): Axie Infinity made this famous but ran into speculation and token inflation issues.
Play to own (P2O): Requires the users to play to gather in-game assets.
Free to own (F2O): A new way to monetise crypto gaming by receiving free NFTs first to entice new gamers and build a community.

Limit Break has championed this model and raised $200M to build F2O games. Their CEO Gabriel Leydon regularly gives away free minting spots for his games.
On-chain vs off-chain games
Crypto gaming can also be split into "on-chain" or "off-chain" games.
On-chain games = Games that have gameplay and assets fully secured on-chain.
Off-chain games = A mix. Most games are a combination of off-chain gameplay with on-chain NFTs or cryptocurrency.
At this stage, minimal games are fully on-chain, but many builders are launching fully on-chain games on emerging Ethereum network StarkNet. Some examples of on-chain games include MatchBoxDAO or DarkForest.
Understanding The Value of Crypto Gaming
Understanding how blockchain, NFTs, and cryptocurrencies improve gaming can be confusing.
Simply, It's all about ownership.
In traditional games, you might spend hours or hundreds, even thousands of dollars on your in-game assets, collectibles and experience. Crypto gaming provides a way through transparent NFTs and crypto incentives to own your in-game assets like never before.
They also can provide publishers with new ways to market games, gain users and monetise. Crypto gaming can also provide increased transparency and allow co-creation.
If you're finished with the game, you can recoup some costs by selling these to other players.
Think of it as bringing more power back to the players and away from publishers.
Pokemon Go
The best way to think of it is through an example.
Pokemon Go is a famous mobile game where players catch, trade and battle pokemon using real-world GPS and navigation.
Issue: People who spend hundreds of dollars in the game on in-game coins and boxes can't sell them, or their accounts will be banned.
In 2022, Pokémon GO in-app purchase revenues surpassed 703.74M. It seems a little off the players who spend billions don't even own their in-game collectibles.
Why Crypto Gaming Is a Big Deal
Crypto gaming is garnering so much attention because gaming is the world's most popular form of entertainment—many believe it's the key to onboarding the next billion crypto adopters.
The total addressable market for gaming is massive.
>3B people play games monthly.
~$55B mobile games were downloaded last year.

Of this, $14.5B was spent on mobile game user acquisition. Crypto gaming flips the switch on user acquisition through new models such as free-to-own.

$180B global gaming revenue was generated in 2022. It's expected to increase to $350B in the next 5 years.

More than art, movies and music etc.,

Mobile revenue = ~$92B.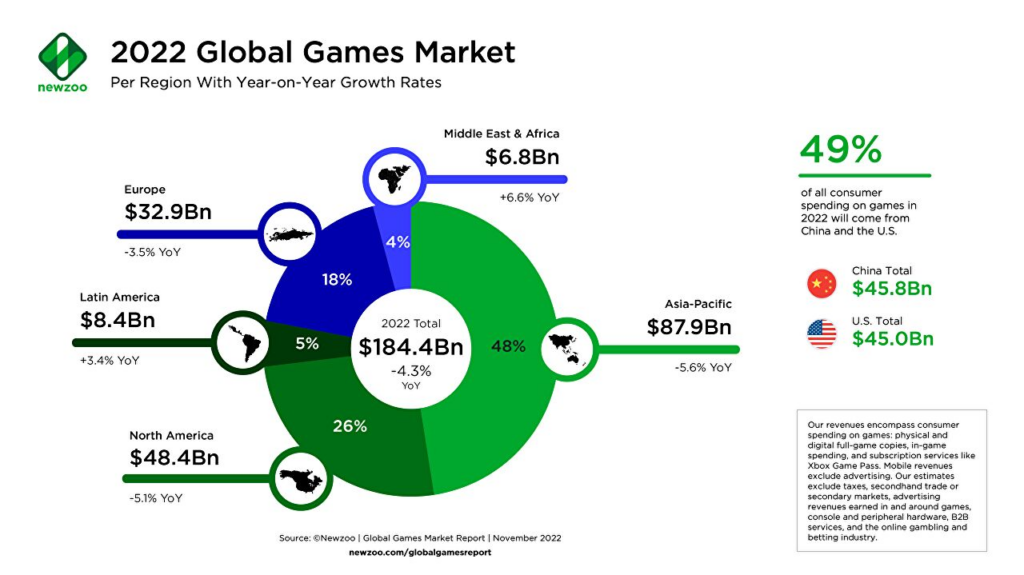 Where Are Blockchain Games Taking Place?
As per the Block's Digital Asset 2023 review, there were ~1873 crypto games
40% on BNB Chain
32% on Ethereum
16% on Polygon
Although Immutable X has not been listed.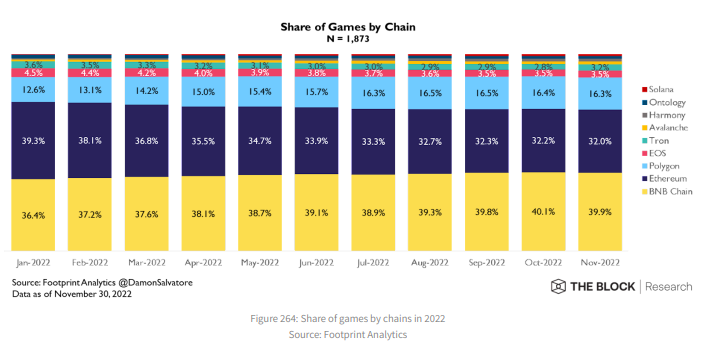 Funding
~$1B was invested in games building on IMX, the most out of any other blockchain in the world after Ethereum—followed by Polygon, Solana, BNB Chain and Avalanche. Immutable has earmarked $500M for gaming and web3 development as Immutable X is shaping up as a powerful chain of choice for blockchain gaming.
2022 was a hot year for blockchain gaming—gaming accounted for 62% of all Web3 investments—raising ~$4.5B.
Upcoming Games To Look Out For
To end 2022, the Game3 awards were held—the list can act as a valuable proxy for the state of gaming and who's the major games.
View the whole list here, especially if you want to dig into the runners-up.
Shooter Shrapnel is set to debut on Avalanche, promising a AAA first-person shooter entirely on-chain.
Takeaway – Immutuable X looks at the chain with many gaming projects nominated.
My favoruite

The one I'm most looking forward to is Illuvium. I have written about Illuvium extensively in the last couple of years on this platform. Mainly because it's a game I'm genuinely excited to play.

It's the only example (for me) of selling land that is not purely based on some weird future use but a real utility. I.e. land generates fuel and other resources which power the in-game economy.

Just like how minerals are generated. If a player wants to travel, catch these NFT creatures or power up, they must buy resources from these landowners.

All 3 games are in private beta, and we look forward to a 2023 public release.
Gauging Users Today
Number of active wallets in web3 games
To end 2022, DappRadar reports the top 5 games had unique active wallets (UAW) above 100K, with 1.5M active wallets coming from Immutable X.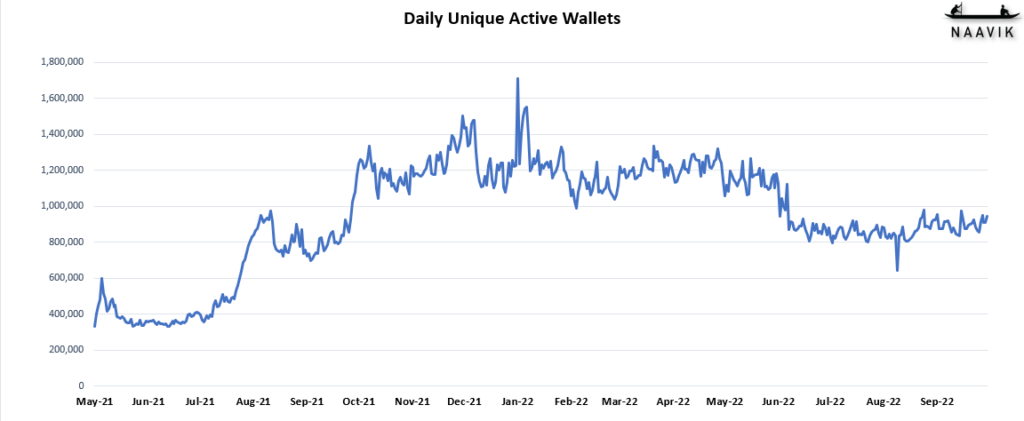 According to DappRadar, there were more unique active wallets in gaming than in DeFi.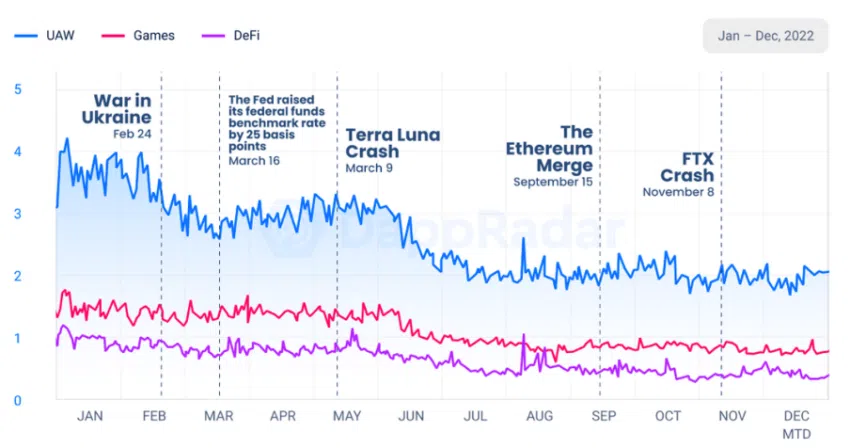 In total, UAW fell 40% in the gaming industry to the end of 2022.
For those who want to go deeper, I highly suggest Delphi Digital & Naavik Web3 Gaming Report
NFTs sold in web3 games?
NFT trading volume in 2022 increased by just 0.41% compared to 2021. However, the number of unique traders count increased by 876.89%.
Total transactions in web3 gaming
According to DappRadar, Blockchain games in 2022 account for 49% of all dApp activity, with an average of 1.15M daily unique active wallets and 7.4B transactions.
Want more?
What Will It Take To Go Mainstream?
The big question on everyone's lips is what it will take for these blockchain-based games to go global and hit the mass market.
For me, it's going to be a combination of 2 key factors
Abstracted away the blockchain.
Making a truly fun game.
Not All Roses
See my concerns about crypto gaming below, mainly directed at the play-to-earn style.
In general, there remain credible arguments against crypto gaming taking off:
Gamers may not honestly care about owning their assets
It creates too much speculation that ruins the game
Misaligns incentives if not done correctly (there is yet to be a game to align this 100%)
Developers give up too much control and become vulnerable to token crashes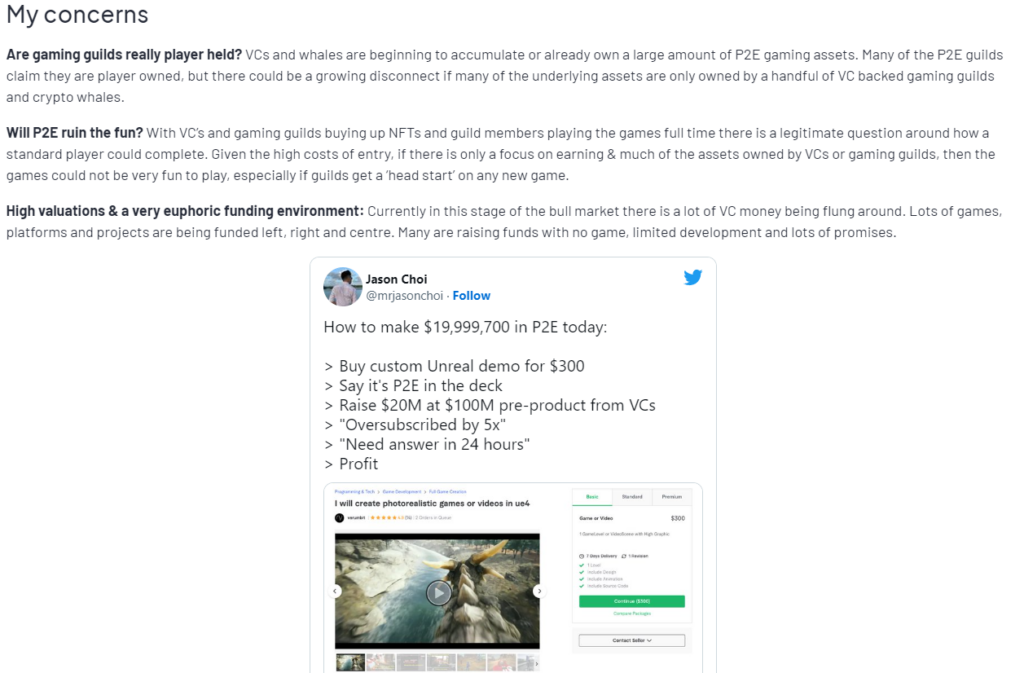 Originally published by Collective Shift on 26 January 2023
Research-Backed, Crypto Insights That Save You Time
Collective Shift are pleased to to offer you a complimentary one-on-one strategy call with our founder and CEO, Ben Simpson. Collective Shift aims to provide research and analysis to help educate its members.
Disclaimer: This article is licensed by Swyftx from Collective Shift. The information on this page is for general educational and information purposes only and should not be taken as investment advice, personal recommendation, or an offer of, or solicitation to, buy or sell any assets. It has been prepared without regard to any particular investment objectives or financial situation and does not purport to cover any legal or regulatory requirements. Any opinions presented in this article belong to Collective Shift and may not align to the views of Swyftx. Customers are encouraged to do their own independent research and seek professional advice. Swyftx and Collective Shift make no representation and assumes no liability as to the accuracy or completeness of the content. Any references to past performance are not, and should not be taken as a reliable indicator of future results. Make sure you understand the risks involved in trading before committing any capital. Never risk more than you are prepared to lose. Consider Swyftx's Terms of Use and Risk Disclosure Statement for more details.